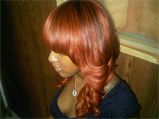 As a black woman and more so a Caribbean woman, I have found it very tedious and tiresome to care my hair. Having my hair at a certain length while keeping it healthy is a mystery to me. Luckily I have found some articles online that were useful to me.
BLACK HAIR/ABOUT.COM
One of the biggest myt...
Read Full Post »

Your hair journey starts hair.

Lets Go!
Leave a comment about yours.
/