Shopping Cart
Your Cart is Empty
There was an error with PayPal
Click here to try again
Thank you for your business!
You should be receiving an order confirmation from Paypal shortly.
Exit Shopping Cart
| | |
| --- | --- |
| Posted on October 21, 2011 at 3:45 PM | |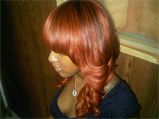 As a black woman and more so a Caribbean woman, I have found it very tedious and tiresome to care my hair. Having my hair at a certain length while keeping it healthy is a mystery to me. Luckily I have found some articles online that were useful to me.
BLACK HAIR/ABOUT.COM
One of the biggest myths about black hair is that it doesn't grow or grow as quickly as other types of hair. All hair grows an average of ½ inch per month, but it's how you treat your hair that determines how much you'll retain. Some women swear by vitamin regimens that call for popping pills all day long, while others cut their hair according to the phases of the moon. There's no mumbo-jumbo involved in hair growth. All that's required is your commitment to healthy hair practices and treating your hair with TLC.
Follow a Healthy Lifestyle
Before we get to the outside, we need to take care of the inside. Yes, what you eat, drink and how you treat your body has an effect on your hair. You need to eat enough fresh fruits and vegetables, drink enough water and exercise regularly for your body's overall health. Since your hair grows directly from your body, when you treat your body well, your skin, nails and hair benefit, too. People who suffer from vitamin deficiencies and unhealthy diets can suffer from dry, brittle hair.
Use Moisturizing Products
Because black hair is often dry by nature, it's best to use products that replace needed moisture. This includes using shampoos and conditioners formulated for dry and/or damaged hair. These products don't have to come strictly from the "ethnic" hair aisle, either; many mainstream brands make hair products for different types of hair, from oily to dry.
Condition, Condition, Condition
This is crucial for having healthy hair. Besides the right shampoo and conditioner, use leave-in conditioners as well. You also need a good deep conditioner; use it at least once a month. Well-moisturized hair is less prone to dryness and breakage, leading to more hair retention.
Relax with Care
Chemical abuse is one of the biggest causes of hair damage in black women. Everyone isn't going to go to a professional to get her hair relaxed; even some who do may find that the stylist isn't putting hair health as her top priority. When it comes to growing relaxed hair longer, you can't relax too often, but when it's time for a touch-up, get one because the longer you wait, the greater the chance of breakage occurring where the relaxed hair meets the new growth. Overlapping a relaxer onto previously relaxed hair is another major cause of breakage. If you choose to wear your hair relaxed, it's best to find a competent stylist and stick with him or her – the fewer people you have applying chemicals to your hair, the better.
Wear Gentle Styles
Black hair is not as tough as it may appear, so you need to choose styles that keep its fragile nature in mind. Too-tight ponytails and braids worn over extended periods of time will eventually lead to breakage. Hair styling should never be painful! Think: Be kind to your hairline and choose hairstyles accordingly.
Categories: are u transitioning, on a hair growth journey
/